Pestmaster® Services Of Topeka, KS
Pestmaster® Services of Topeka, KS began in 2020 as a family and veteran owned and operated franchise. Together, the husband and wife duo focused on lawn services for the past 15 years while getting involved with pest control as well. Their strong desire to help people, attention to detail, and a commitment to treating customers like family is what sets them apart from any other pest control company in the Topeka, KS area.
Our team consists of service professionals with a local understanding of the pests common to the Topeka area while remaining backed by the nationwide resources provided by the Pestmaster® Services company. That's why we exemplify the mission to deliver pest management with Environmentality®.
Why Choose Pestmaster® Services?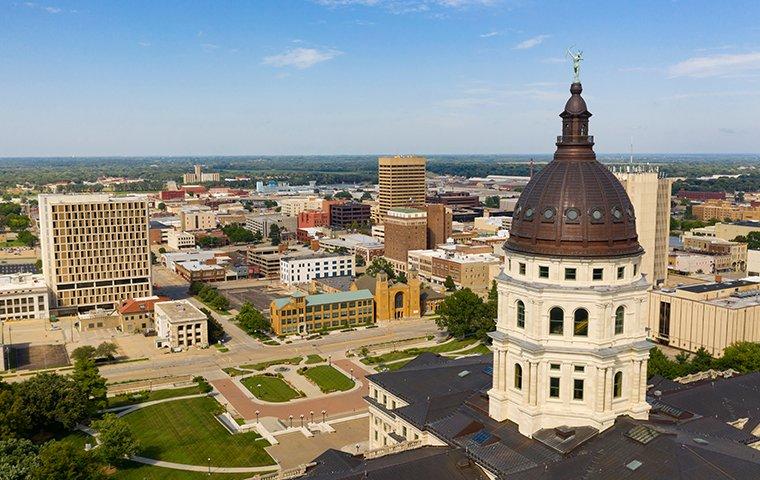 True pest control is a complex process that requires inspection, effective treatment, and follow-up. For this reason, we approach every case with a comprehensive inspection, which we then use to formulate a customized solution centered on the principles behind our Integrated Pest Management model.
The use of the IPM method is our approach every time because it's proven different pests interact with each other and the surrounding environment in many different ways. Our commitment to this approach ensures we can deliver guaranteed results today and put the necessary measures in place to keep you protected in the future.
Besides unmatched service, we bring the following to the pest control fight:
Numerous Certifications: Our team is GreenPro certified, and QualityPro certified. Along with those certifications, we maintain various certifications and affiliations consistent with being the best in the industry.

Environmentally Friendly: We believe that your safety and well-being are a top-priority. That's why we only utilize verified green-friendly pest control products during your treatment.

Free Inspection: You deserve answers before committing to a course of action. We offer a free inspection so you can get to the bottom of things before committing to the next step.

Proven Method: The IPM method we use is considered the gold standard of pest management. For this reason, our service professionals work diligently to ensure our skills and expertise remain sharp by staying current on the development of best practices.
Our Pestmaster® Services Promise
Successful pest management means our customers received the best results possible. Our team understands and lives that motto, which is why we promise to deliver nothing short of the absolute best service possible with every single treatment. As part of our commitment to fulfilling this promise, our service professionals stay up to date on the pests local to the Topeka, KS area so you can enjoy peace of mind with every single treatment.
Finally, we push for innovation in the field of pest control, so every treatment is also the latest and greatest for both our residential and commercial customers. With the personal connection our local team makes with each customer, we can deliver truly sustainable solutions that satisfy pest management's mission done with Environmentality®.
Do you need guaranteed results when it comes to pest control? Give our service professionals a call to discuss your professional residential pest control or commercial pest management treatment options or fill out our online form to schedule your free inspection.